Research article
Open Access
Open Peer Review
This article has Open Peer Review reports available.
Expression of cytokine and chemokine mRNA and secretion of tumor necrosis factor-α by gallbladder epithelial cells: Response to bacterial lipopolysaccharides
BMC Gastroenterology
2002
2:23
Received: 13 August 2002
Accepted: 11 October 2002
Published: 11 October 2002
Abstract
Background
In addition to immune cells, many other cell types are known to produce cytokines. Cultured normal mouse gallbladder epithelial cells, used as a model system for gallbladder epithelium, were examined for their ability to express the mRNA of various cytokines and chemokines in response to bacterial lipopolysaccharide. The synthesis and secretion of the tumor necrosis factor-α (TNF-α) protein by these cells was also measured.
Results
Untreated mouse gallbladder cells expressed mRNA for TNF-α, RANTES, and macrophage inflammatory protein-2 (MIP-2). Upon treatment with lipopolysaccharide, these cells now produced mRNA for Interleukin-1β (IL-1β), IL-6, monocyte chemoattractant protein-1 (MCP-1), and showed increased expression of TNF-α and MIP-2 mRNA. Untreated mouse gallbladder cells did not synthesize TNF-α protein; however, they did synthesize and secrete TNF-α upon treatment with lipopolysaccharide.
Methods
Cells were treated with lipopolysaccharides from 3 strains of bacteria. Qualitative and semi-quantitative RT-PCR, using cytokine or chemokine-specific primers, was used to measure mRNA levels of TNFα, IL-1β, IL-6, IL-10, KC, RANTES, MCP-1, and MIP-2. TNF-α protein was measured by immunoassays.
Conclusion
This research demonstrates that gallbladder epithelial cells in response to lipopolysaccharide exposure can alter their cytokine and chemokine RNA expression pattern and can synthesize and secrete TNFα protein. This suggests a mechanism whereby gallbladder epithelial cells in vivo may mediate gallbladder secretory function, inflammation and diseases in an autocrine/paracrine fashion by producing and secreting cytokines and/or chemokines during sepsis.
Keywords
Mucin SecretionBiliary Epithelial CellGallbladder EpitheliumGallbladder Epithelial CellTransepithelial Permeability
Background
The biliary system is more than a passive conduit transporting bile from the liver to the intestines. Hepatic bile is actively modified by the epithelial cells that line the bile ducts and gallbladder. Biliary epithelial function is partially under the control of secretin and vasoactive intestinal peptide [1]. Other extracellular agonists that influence biliary function include neuropeptides [2, 3], ATP [4, 5], and bile salts [6]. In addition to the well-documented role that cytokines play in the immune response and inflammation [7, 8], cytokines also modify the functioning of epithelial cells. For instance, tumor necrosis factor-α (TNF-α) can modify intracellular signal transduction and regulate ionic channel activities in various epithelial cells [9]. A few studies have shown that cytokines can alter biliary epithelial cell function [10, 11].
Biliary epithelial cells are capable of producing a great variety of physiologically active compounds. For example, it has been shown that biliary epithelial cells synthesize nitric oxide, a strong vasodilator [12], and endothelin-1 [13], a potent vasoconstrictor. Various cytokines are also produced by biliary epithelial cells [14]. As biliary epithelial cells are capable of both producing and responding to cytokines, these cells may use cytokines for the autocrine/paracrine regulation of their own function as well as that of other cells.
Bile in the biliary ducts and the gallbladder often contains bacteria and the bacterial product lipopolysaccharide (LPS). This may be due to ascending infection from the intestine or descending infection via portal venous blood [15, 16]. Bacterial infection usually leads to activation of the immune system followed by inflammation. While inflammation is an important element in the defense against infection, it can also contribute to cholestatic biliary diseases and cholelithiasis. Therefore, the control of the immune and inflammatory response of biliary tissue to bacteria is important in determining disease progression. While the biliary epithelium can act as a physical barrier to limit bacterial infection of the underlying tissue [16], its physiological response to bacteria and bacterial products is not well characterized. Like pulmonary and intestinal epithelial cells, biliary epithelial cells might respond to bacteria in bile by producing cytokines and other factors. To test this hypothesis, we used cultured normal mouse gallbladder epithelial cells (MGBE) as an in vitro model system to examine the ability of gallbladder epithelium to produce mRNA for various cytokines and chemokines. The synthesis and secretion of TNF-α protein was also measured. These cells demonstrated distinct changes in their cytokine and chemokine mRNA expression profile and TNF-α protein production in response to LPS.
Results
RT-PCR
Using cytokine/chemokine-specific primers with RT-PCR, untreated MGBE showed distinct bands representing mRNA of TNF-α, RANTES (Regulated on activation, normal T cell expressed and secreted) (CCL5), and macrophage inflammatory protein-2 (MIP-2/CXCL2) (Figure
1
). Upon apical treatment with LPS from
E. coli
for two hours, these cells additionally produced mRNA for interleukin-1β (IL-1β), IL-6, and monocyte chemoattractant protein-1 (MCP-1/CCL2). There was no detectable expression of IL-10 or KC (murine GRO-α/CXCL1) mRNA before or after LPS treatment. Semi-quantitative RT-PCR using specific primers for TNF-α, MIP-2 (CXCL2) and IL-1β showed that LPS treatment caused the amount of TNF-α mRNA to slightly increase compared to the already abundant levels found in untreated cells (figure
2
and
3
). In contrast, there was a substantial increase in the expression of MIP-2 (CXCL2) mRNA and IL-1β mRNA following LPS treatment compared to control. Similar responses were seen when the cells were treated with LPS from
P. aeruginosa
(Figure
2
and
3
). All visualized PCR product bands were of the expected size and nucleotide sequence confirming proper identification. Although the RANTES (CCL5) sample had extra bands of unknown origin, the band at the expected size of 205 bp had a nucleotide sequence that matched RANTES.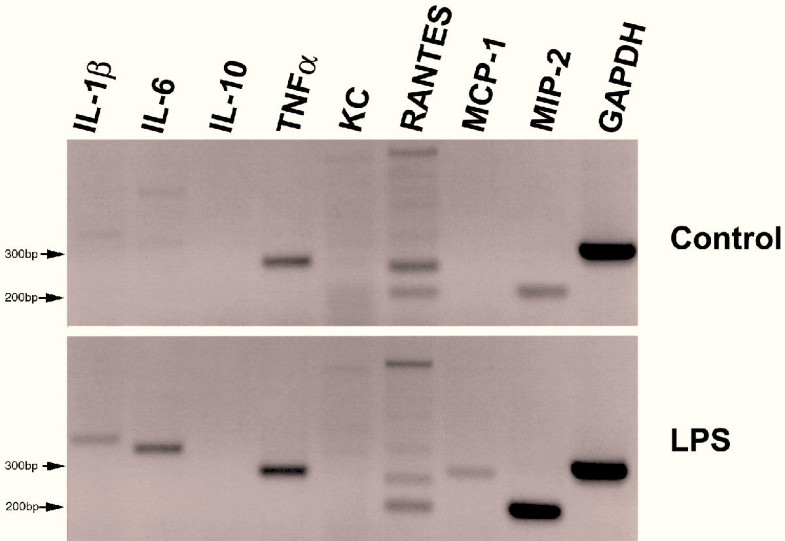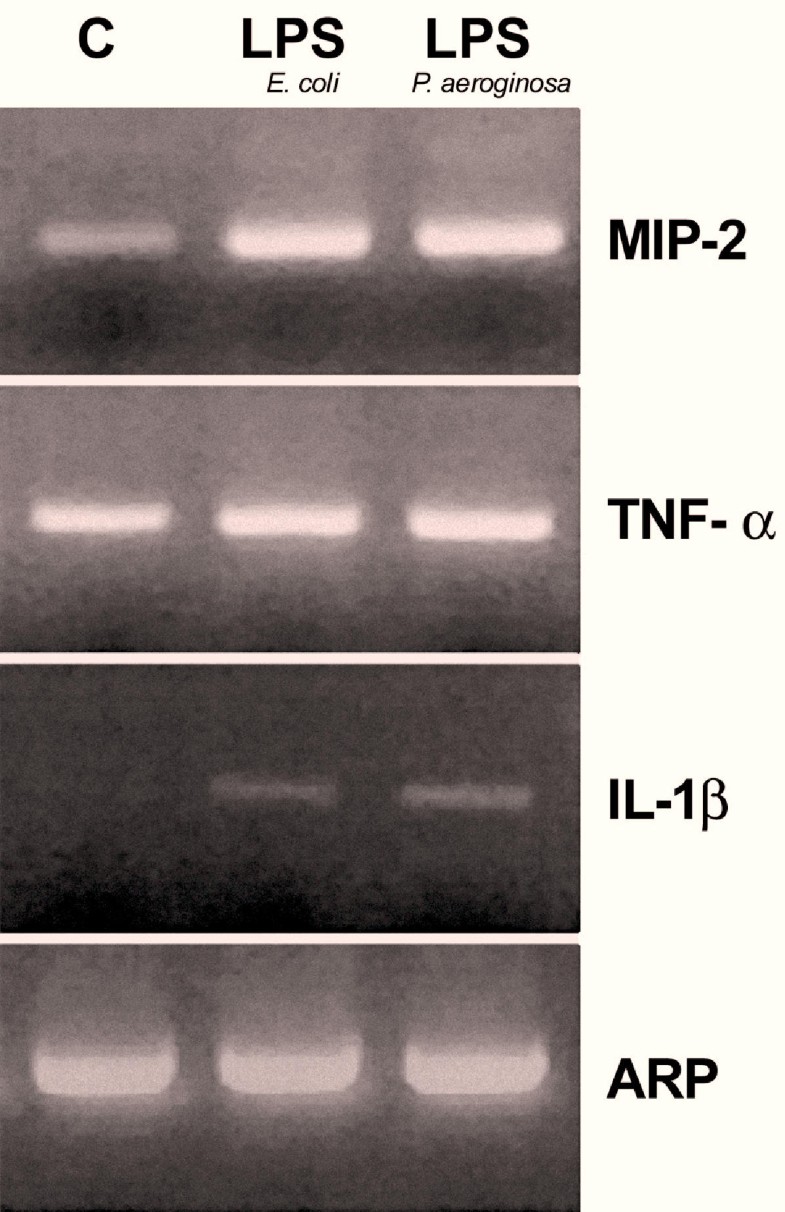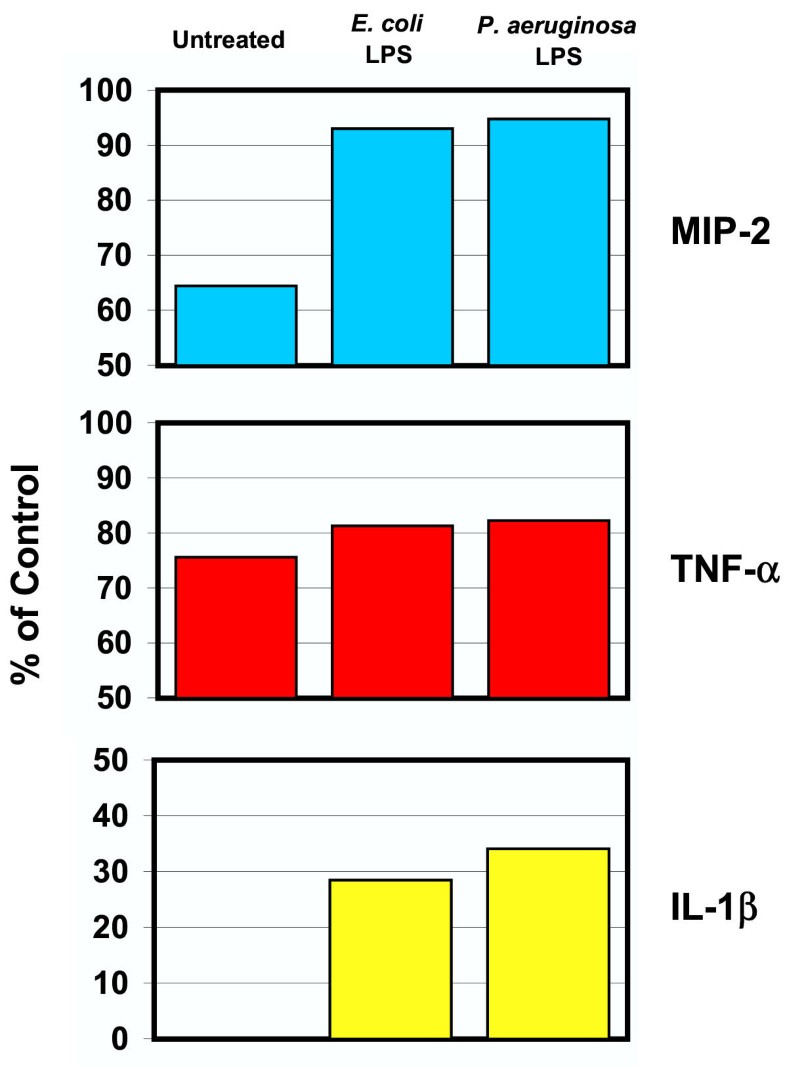 TNF-α Immunoassay
The immunoassay experiments showed no detectable TNF-α in untreated MGBE or their surrounding media after 5 hours of incubation (limit of detection = 5.1 pg/mL). In contrast, following treatment with 100 μg/mL
E. coli
LPS the concentration of TNF-α protein in the cells was 33.6 pg per 10
6
cells in one hour (Figure
4
). Intracellular TNF-α concentration reached a peak two hours after LPS treatment with a subsequent decrease by five hours. After two and five hours of LPS treatment, there was measurable release of TNF-α into the media of both the apical and basolateral compartments (figure
5
). Three different species of LPS (
E. coli
,
P. aeruginosa
, and
Klebsiella pneumoniae
) stimulated TNF-α release in a similar fashion (figure
6
). Treatment with 2 μg/mL
E. coli
LPS showed comparable results. None of the treatments increased lactate dehydrogenase in the medium compared with controls showing that the LPS treatments did not alter epithelial cell integrity (data not shown). LPS treatment also had no effect on the transepithelial permeability of these cells for up to 24 hours as measured by
3
H-mannitol diffusion experiments when compared to controls (data not shown).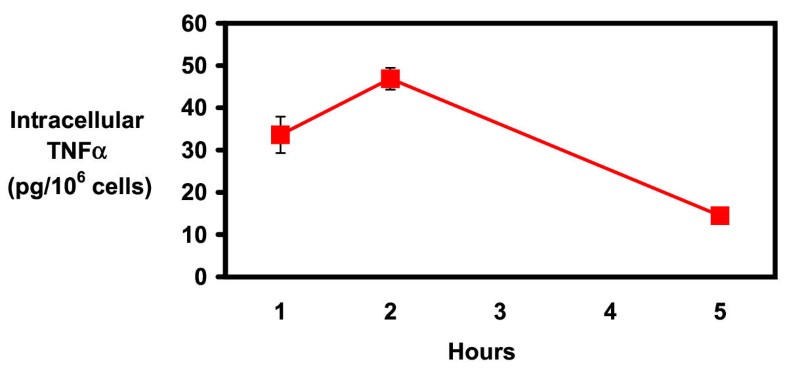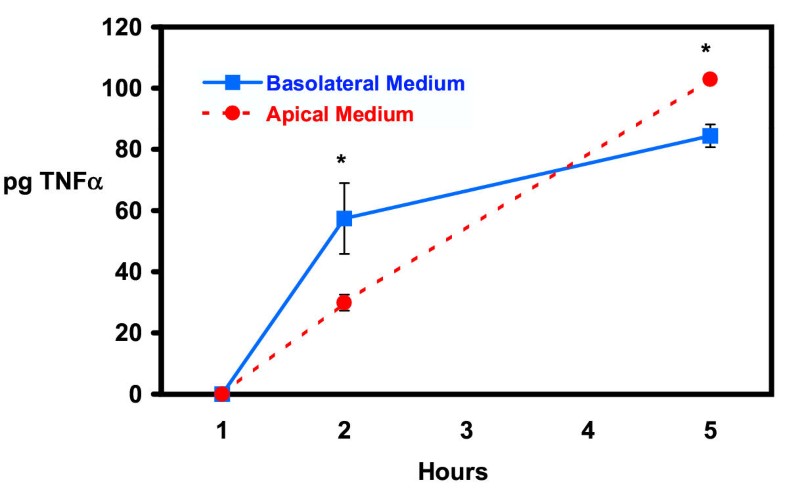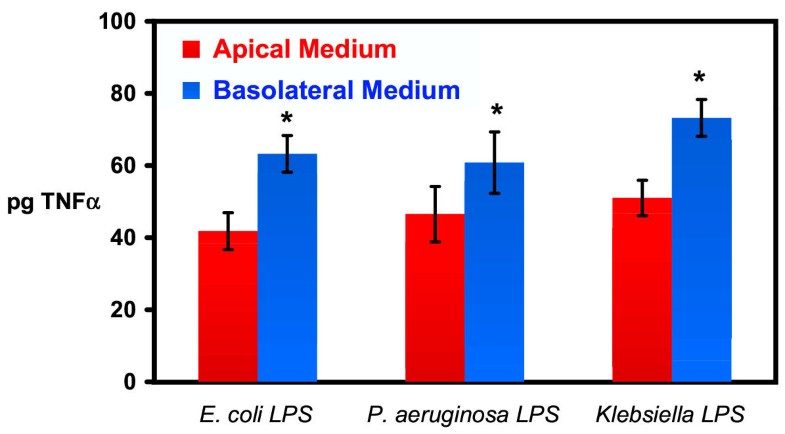 Discussion
Bacteria are found in the bile of the gallbladder and bile ducts [15, 16], the presence of which may have relevance to clinical diseases such as stone formation [19–21], primary sclerosing cholangitis [22], and cholestasis [23, 24]. Direct exposure of sub-epithelial tissue to LPS from gram-negative bacteria causes release of cytokines by resident leukocytes and activation of macrophages [25]. The biliary fluid of patients with cholangitis has increased concentrations of the inflammatory cytokines TNF-α and IL-6 suggesting that bacterial infection leads to an increase in cytokines released into the bile [26]. Adding LPS to the bile of guinea pig gallbladders in vivo led to increased IL-1 concentration in the bile [27]. What role biliary epithelial cells play in the response to bacteria in bile is not known.
While most cytokine research has focused on cells of the immune system, other cell types produce cytokines including the epithelial cells of the lung [28, 29], retina [30], and intestines [31, 32]. Among the few studies involving the biliary system, it was demonstrated that cultured human intrahepatic duct epithelial cells produce functional IL-8 and MCP-1 (CCL2) [14, 33]. Isolated human intrahepatic epithelial ducts expressed immunoreactive IL-6 when treated with IL-1β or phorbal myristate acetate [34]. Intracellular TNF-α mRNA and protein was detected in intrahepatic biliary duct cells in tissue sections [35], but not in cultured intrahepatic epithelial cells; therefore, there was no clear demonstration that biliary epithelium secretes TNF-α. Little research has focused on the ability of the epithelial cells of the extrahepatic biliary system to produce cytokines or chemokines.
As described in this paper, MGBE were used as an in vitro model system of gallbladder epithelium to measure the endogenous production of cytokines and chemokines by extrahepatic biliary epithelial cells. These cultured cells consist exclusively of normal, non-neoplastic epithelial cells [17], without other cell types such as leukocytes ordinarily found in biliary tissues. The experiments showed that unstimulated MGBE express mRNA for TNF-α, MIP-2, and RANTES (CCL5). After treating the apical surface of the cells with LPS, the mRNA levels for TNF-α and MIP-2 (CXCL2) increased, while mRNA for IL-1β, IL-6, and MCP-1 (CCL2) appeared for the first time. Therefore, cytokines (TNF-α, IL-1β, and IL-6), a C-C type chemokine (MCP-1/CCL2), and a C-X-C type chemokine (MIP-2/CXCL2) are all up regulated at the RNA level by bacterial product interaction with the epithelial cells. The effects of LPS treatment for two hours on cytokine and chemokine mRNA expression clearly suggests that biliary epithelial cells can modify their own cytokine and chemokine production after bacterial challenge at the mRNA level. As with all in vitro cell systems there is the possibility that the cells in culture may have phenotypic changes to their cytokine profile compared to in vivo cells. In other parameters tested (i.e., morphology, mucin secretion, etc.), these cells retain the normal phenotype of cells in vivo.
Measurements of TNF-α protein showed that MGBE synthesize and secrete TNF-α when exposed to LPS, while untreated cells do not. This demonstrates that gallbladder epithelial cells themselves secrete a cytokine in response to bacterial products. The results from RT-PCR (showing a relatively high TNF-α mRNA expression levels in untreated cells which is only slightly increased by LPS treatment) along with the immunoassay results suggest that TNF-α mRNA is constantly present in these cells, but is not translated into protein until certain triggers are provided. This is consistent with the post-transcriptional regulation of TNF-α observed in other cells [36]. In contrast, the mRNA of other factors, such as IL-1β, IL-6, and MCP-1 (CCL2) are not synthesized until the cells are stimulated, suggesting that their production is under transcriptional control. The protein expression of these other cytokines and chemokines along with the precise nature of the interaction between LPS and cell surface receptors warrants further study.
While the exact role that gallbladder epithelial cells play in inflammatory and infectious diseases has yet to be determined, our research supports the hypothesis that gallbladder epithelium have some innate cytokine-producing capabilities in response to the presence of bacteria on their apical surface. The accumulation of TNF-α in the gallbladder bile of patients with cholangitis may be due in part to the apical release of TNF-α by biliary epithelial cells. In contrast, basolateral secretion of TNF-α could lead to a focal accumulation of TNF-α in the sub-mucosa of biliary tissue. Sufficient cytokine secretion could then stimulate the leukocytes in the sub-epithelial tissue, leading to inflammation of the tissue, without the need for the bacteria to pass through the epithelial barrier. The production of cytokines by gallbladder epithelial cells following LPS exposure demonstrates that biliary epithelial cells may be an active partner with the immune system in the detection of and defense against bacteria in bile.
During sepsis, biliary epithelial cells could mediate biliary secretory function through cytokine and chemokine production. Dog gallbladder epithelial cells demonstrated increased mucin secretion following TNF-α treatment [10]. In addition, exogenous TNF-α altered the absorptive properties of cultured human gallbladder epithelial cells [37]. It is therefore reasonable to suggest that TNF-α produced by gallbladder epithelial cells in response to LPS could affect cellular function in an autocrine manner. Since mucin secretion and gallbladder transport properties play vital roles in cholelithiasis, changes in these parameters caused by endogenous cytokines and chemokines may promote stone formation. Epithelial-derived cytokines and chemokines also may alter biliary function leading to cholestasis.
Conclusions
Gallbladder epithelial cells demonstrated distinct patterns of expression of mRNA for various cytokines and chemokines, and responded to treatment with LPS by altering their expression of certain cytokine and chemokine RNA and increasing TNF-α protein synthesis and secretion. The ability of biliary epithelial cell to control endogenous cytokine and chemokine production has important implications for biliary inflammation and diseases, such as cholangitis, cholestasis, and cholelithiasis.
Abbreviations
IL:

(Interleukin)
LPS:

(Lipopolysaccharides)
MCP-1:

(Monocyte chemoattractant protein-1)
MGBE:

(Mouse gallbladder epithelial cells)
MIP-2:

(Macrophage inflammatory protein-2)
RANTES:

(Regulated on activation normal T cell expressed and secreted)
TNF-a:

(Tumor Necrosis Factor-alpha)
Declarations
Acknowledgements
Thanks to Ilya Gukovsky for assistance with the cytokine mRNA assays and Dr. Don Ostrow for helpful manuscript assistance. This work was supported by a grant from the NIH (DK50246) and in part by the Medical Research Service of the Department of Veterans Affairs.
Authors' Affiliations
(1)
Department of Medicine, University of Washington and VA Puget Sound Health Care System, Seattle, USA
(2)
Department of Medicine, University of California at Los Angeles and West Los Angeles VA Medical Center, Los Angeles, USA
Copyright
© Savard et al; licensee BioMed Central Ltd. 2002
This article is published under license to BioMed Central Ltd. This is an Open Access article: verbatim copying and redistribution of this article are permitted in all media for any purpose, provided this notice is preserved along with the article's original URL.