Case report
Open Access
Open Peer Review
This article has Open Peer Review reports available.
Autoimmune hepatitis type 2 associated with an unexpected and transient presence of primary biliary cirrhosis-specific antimitochondrial antibodies: a case study and review of the literature
BMC Gastroenterology
2012
12:92
Received: 23 January 2012
Accepted: 20 July 2012
Published: 20 July 2012
Abstract
Background
Unlike other autoimmune liver diseases, primary biliary cirrhosis (PBC) has never been reported in early childhood, while type 2 autoimmune hepatitis (AIH) is eminently a paediatric disease.
Case presentation
We describe a case of type 2 AIH with serological positivity for PBC-specific anti-mitochondrial antibodies (AMA) in a 3-year old girl. We found this observation intriguing as AMA and indeed an overlap with PBC are virtually absent in Type 2 AIH, a pediatric form of AIH which is distinct precisely because it is characterized by pathognomonic anti-liver kidney microsomal type 1 (LKM-1) showing a remarkable antigen-specificity directed against cytochrome P4502D6. We also review the literature in relation to AMA positivity in paediatric age and adolescence. In our case, the presence of AIH-2-specific anti-LKM-1 and PBC-specific AMA was confirmed by indirect immunofluorescence (IIF), and immunoblotting and ELISA based on recombinant mitochondrial antigens. The clinical, laboratory and histological features of the child are given in detail. Interestingly the mother was AMA positive without other features of PBC. The child was successfully treated with immunosuppression and five years after the original diagnosis is on a low dose of prednisolone and azathioprine, with no signs of relapse. Anti-LKM-1 antibodies are still present in low titres. AMA were detectable for the first 4 years after the diagnosis and disappeared later.
Conclusion
This is the first case report in the literature of AIH type 2 with an unexpected PBC-specific AMA positivity in a young child. Response to immunosuppressive treatment was satisfactory and similar to that described in AIH. A review of published reports on AMA positivity in paediatric age shows that the antibody may arise in the context of immunodeficiency and is variably associated with liver damage.
Keywords
AutoantibodyAutoimmunityAutoimmune cholangitisEpidemiologyEnvironmentPaediatric liver diseases.
Background
Primary biliary cirrhosis (PBC) typically affects middle aged women and has never been reported in previously healthy young children, although affected adolescents have been described [1–22]. The disease is characterized by an immune-mediated destruction of intrahepatic bile ducts and the presence of high-titer anti-mitochondrial antibodies (AMA) against the E2 subunit of the pyruvate dehydrogenase complex (PDC-E2) [3, 9, 11–13, 23–39]. AMA are highly specific for PBC, and can be detected in approximately 95% of patients when sensitive diagnostic immunoassays are used [3, 6, 9, 11–13, 18, 21, 23–38, 40–50]. The etiology of the disease remains elusive, but is believed to derive from a combination of factors including a multi-lineage loss of immunological tolerance to PDC-E2 [10, 13, 15, 16, 29–31, 33, 36, 43–45, 51–84], genetic susceptibility [6, 9, 11, 22, 51, 77, 85–111] and exposure to environmental triggers [51, 52, 58, 112–135]. Descriptive epidemiological studies strongly suggest that the incidence and prevalence of PBC are increasing [136–140].
We herein describe the unusual case of a 3-year-old girl with overlapping autoimmune hepatitis type 2 (AIH-2) and PBC-specific AMA positivity. She presented with acute liver failure with no evidence of infections, metabolic and genetic liver disease or other causes of acute liver disease. The autoantibody testing revealed the presence of anti-liver kidney microsomal antibodies (LKM-1) and PBC-specific AMA, the autoantibody markers of AIH-2 and PBC, respectively. Though histological findings did not demonstrate typical overlap of PBC and AIH, they were compatible with both AIH and overlapping biliary features. AMA were also detected in the mother's serum samples.
Over a seven-year period, 3808 paediatric patients with liver disease were screened in a single tertiary center in Northern Italy, Bergamo, for the presence of serum autoantibodies. The screening program included children with acute or chronic liver diseases in the course of evaluation for inclusion onto a waiting list for orthotopic liver transplant (OLT), or during follow-up after OLT. Throughout that period, 340 paediatric OLT were performed. Out of 3808 tested patients, only 2 tested positive for AMA by indirect immunofluorescence (IIF), which was confirmed by western blot with recombinant antigens. The first one presented with acute liver failure (ALF) with massive hepatic necrosis, was transplanted and spontaneously lost AMA after OLT. The second one is herein described. To our knowledge, this is the first child with AIH type 2 and AMA positivity documented at the level of individual PBC-specific mitochondrial antigens ever reported.
Case report
SM, a 3-year-old previously healthy girl, came to medical attention because of progressive jaundice, fatigue and anorexia. She was admitted to a local hospital and on examination was found to be icteric with hepato-splenomegaly but no ascites. No prior history of early deaths, liver disease or autoimmunity existed in the family. Laboratory tests indicated cholestatic hepatitis without impaired liver function (Table
1
). However, her condition deteriorated within 24 hours with features of acute liver failure (International normalized prothrombin ratio [INR] 2, increasing hyper-ammoniemia from 55 to 105 and up to 196 mMol/L) and neurological deterioration. Five days later, she was admitted to the Pediatric Liver Transplant Centre (Ospedali Riuniti, Bergamo) with stage I hepatic encephalopathy. Ultrasound examination demonstrated a hyper-echogenic left hepatic segment with structural alteration, suggestive of chronic parenchymal damage.
Table 1
Routine laboratory results before, at admission and during previous outside hospitalization. Therapy with steroids and cyclosporine was started on day 1
| | t = −5 days | Admission t = 0 | t = 20 days | t = 40 days |
| --- | --- | --- | --- | --- |
| AST (IU/L) nv < 35 | 3,700 | 1,243 | 128 | 25 |
| ALT (IU/L) nv < 32 | 2,800 | 1,249 | 234 | 47 |
| Bilirubin, total (mg/dl) nv < 1.2 | | 16.90 | 7.90 | 1 |
| Bilirubin, direct (mg/dl) nv < 0.3 | 10 | 14.60 | 5.50 | 0.60 |
| Albumin (g/dl) nv < 3,5-5 g/dl | | 4.20 | 3.66 | 4 |
| INR nv 0.9-1.2 | 2.00 | 2.15 | 1.23 | 1.07 |
| Immunoglobulins | | | | |
|  IgG (mg/dl) nv 707–1919 | nt | 2230 | 1020 | nt |
|  IgA (mg/dl) nv 60–270 | nt | 271 | 136 | nt |
|  IIgM (mg/dl) nv 61-276 | nt | 200 | 122 | nt |
AMA and LKM were strongly positive (> 1:640), and total serum IgG and IgM levels were elevated. The laboratory tests excluded viral infections (hepatitis virus A, B, C, D, human immunodeficiency virus, Epstein-Barr, cytomegalovirus, and herpes simplex virus), metabolic and genetic alterations (Wilson disease, haemochromatosis, and alpha-1 antitrypsin deficiency). Liver biopsy was contraindicated because of the coagulation abnormalities.
Based on the clinical and laboratory findings, i.v. therapy with methylprednisolone (2 mg/kg/day) and cyclosporine (continuous infusion at doses of 2–3 mg/kg/day in order to maintain a blood level up to 300 ng/ml) was started. During the following 36 hours, hepatic encephalopathy progressed to stage III and hepatic function deteriorated (Table1), and the child was listed for urgent OLT. However the child improved in the following days with complete neurological recovery and she was removed from the transplant list. One week after the beginning of therapy, the hepatic function was normal, and steroid tapering was initiated one month later. In the following 3 months, steroids were decreased and cyclosporine was switched to azathioprine (50 mg/day).
Repeated laboratory tests confirmed the presence of both anti-LKM-1 antibodies by IIF (Figure
1
) [
48
,
141
,
142
] and AMA by western blot with recombinant antigen [
13
] (Figure
2
) over a two year period. Seropositivity for PBC-specific autoantibody responses were also confirmed using an a PBC profile ELISA based on a mixture of the triple MIT3 hybroid and PBC-specific ANA gp210 and sp100 peptides (Quanta Lite PBC profile, INOVA Diagnostics, San Diego, California, USA). Serum samples were negative for PBC-specific ANA by IIF. At the time of the diagnosis, both parents were alive and in good health, and no autoimmune diseases were reported in first grade relatives. Sera from the parents, maternal and paternal grandparents and one maternal uncle were also collected and tested for the presence of autoantibodies. The child's mother was found to be positive for AMA directed against the major PBC-specific mitochondrial autoantigen, but had no symptoms or signs of liver disease (Figure
2
).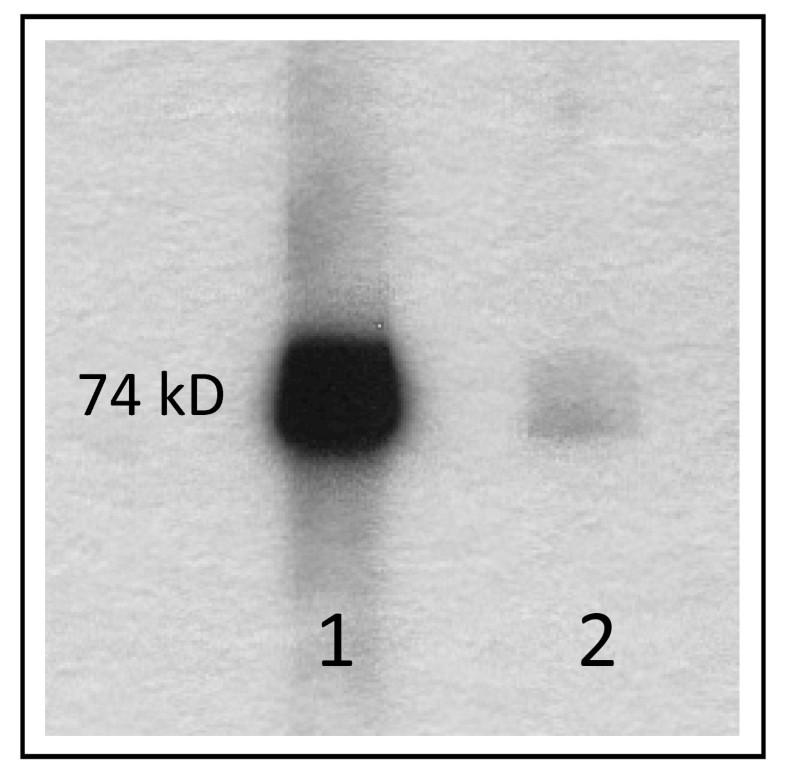 A percutaneous liver biopsy was performed 4 weeks after presentation, when the INR normalized. Ductular structures were stained using cytokeratin 7 (CK-7) (NeoMarkers, Freemont, USA, working dilution 1:200), a marker selectively expressed by the biliary epithelial cells in the human liver. Histological examination showed a normal liver architecture with mild mixed inflammatory infiltrate and minimal portal fibrosis. Immunohistochemical staining for CK-7 demonstrated marked proliferation of medium and small sized bile ducts in portal and periportal areas. Focal hepatocytes demonstrated biliary metaplasia which was evident by the same immunohistochemical staining. Mixed steatosis was observed in about 20% of liver cells (Figure ss
3
). Portal tracts were expanded, fibrotic and oedematous, with a moderate inflammatory infiltrate, mainly represented by lymphocytes with spill-over features and isolated granulocytes. Interlobular bile ducts were affected by destructive lesions with focal destruction of basal membrane by inflammatory cells, occasionally migrating within the biliary epithelium. Typical histological lesions of PBC are difficult to be seen in the context of concomitant features of acute severe hepatitis related to AIH. It is possible that the first cycle of corticosteroid therapy had a stronger effect in ameliorating the hepatitis component, thereby allowing the cholangiopatic component (which is less likely to be responsive to corticosteroid therapy) to become more evident once the subacute lesions disappeared.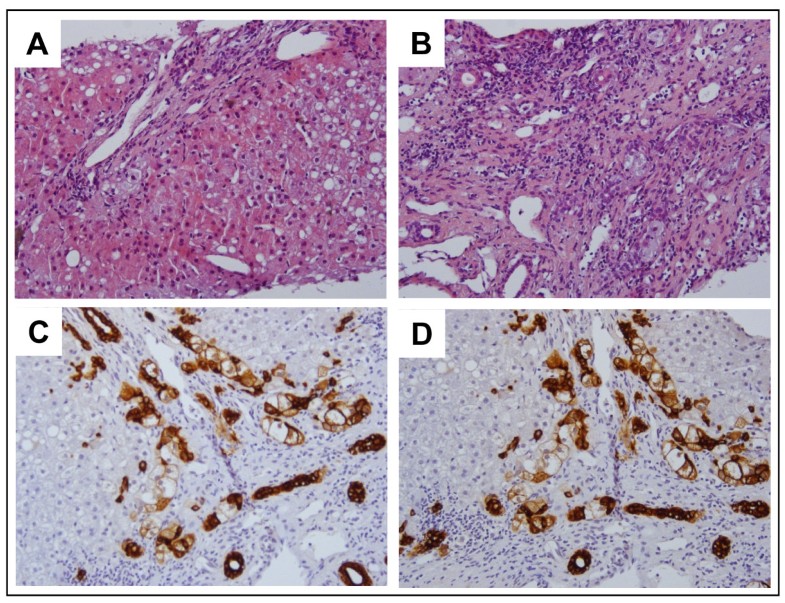 Five years after the acute episode, the child is on a low dose of steroid (prednisone 5 mg/day) and azathioprine (50 mg/day), with normal liver function. AMA and anti-LKM-1 remained positive for four years; in the course of the 5th follow up year, AMA became undetectable while anti-LKM-1 remained positive (January 2011).
Discussion
We herein present the rare finding of type 2 AIH with the unexpected presence of AMA. Unlike other autoimmune liver diseases, typical features of PBC have never been reported in early childhood. Reported paediatric autoimmune liver disorders include AIH types 1 and 2, and autoimmune sclerosing cholangitis (ASC) [17]. The diagnosis of ASC relies on cholangiographic imaging changes. AIH type 2 is less frequent than AIH-1, affects mainly children and young adults and has a more aggressive course, leading to fulminant hepatic failure more often than type 1 AIH. In general, AIH responds satisfactorily to immunosuppressive treatment, with AIH-2 usually requiring treatment for life. The positive response to immunosuppression of the present case, in addition to the high titer of anti-LKM-1 antibodies, strongly supports the AIH component of the disease. Anti-LKM-1 antibodies in AIH-2 are specifically directed against cytochrome P4502D6. In addition to AIH-2, anti-LKM-1 is present in a minor proportion of chronic HCV-infected patients. HCV infection was ruled out in the present case of AIH-2. A diagnosis compatible with PBC has been considered on the basis of the presence of PBC-specific AMA, evidence of cholestasis and histological lesions - not typical of PBC such as the granulomatous destruction of septal or interlobular bile ducts, but indicative of portal tract inflammation and ductular damage [13].
The presence of PBC-specific AMA in this case is intriguing. AMA are highly specific for PBC, and often precede the development of liver damage by several years, even in individuals who are asymptomatic and do not have any other evidence of chronic liver disease [13]. Although the mechanisms leading to the generation of AMA are unknown, it has been postulated that xenobiotic-induced and/or oxidative modification of mitochondrial autoantigens is a critical step leading to loss of immunological tolerance.
Consent
Written informed consent was obtained from the patient's parents for publication of this Case report and any accompanying images. A copy of the written consent is available for review by the Series Editor of this journal.
Grant support
DSS is supported by Liver Immunodiagnostics, KCL grant; AL is supported by AISF (Associazione Italiana per lo Studio del Fegato), Mario Coppo award; DPB is supported by a CSL award from the Higher Education Funding Council for England.
Authors contributions
PI designed the study and had the overall supervision; PI, AL, DSS and DPB have written the first and subsequent drafts of the manuscript; PI, MGA, LF, GT conceived of the study, and participated in its design and coordination and helped to draft the manuscript. MGA, AL and DPB have carried out the immunoassays; MGA, MB, MC, RI, GT recruited biological material, collected data, and revised the manuscript. AS has performed histopathological assessment, immunohistochemical analysis and produced the photo of the liver tissue sections. All authors read and approved the final manuscript.
Abbreviations
AIH:

Autoimmune Hepatitis
ALF:

Acute Liver Failure
AMA:

Antimitochondrial Antibodies
anti-LKM-1:

Anti-liver Kidney Microsome type 1 antibodies
AST:

Aspartate amonitransferase
GGT:

Gamma Glutamyl Transpeptidase activity
IIF:

Indirect Immunofluorescence
OLT:

Orthotopic liver transplant
PBC:

Primary Biliary Cirrhosis
PDC-E2:

E2 subunit of the pyruvate dehydrogenase complex.
Authors' Affiliations
(1)
Center for Autoimmune Liver Diseases, Humanitas Clinical and Research Center, Rozzano, Italy
(2)
Division of Rheumatology, Allergy and Clinical Immunology, University of California at Davis, Davis, USA
(3)
Clinical Laboratory, Ospedali Riuniti, Bergamo, Italy
(4)
Institute of Liver Studies, King's College London School of Medicine at King's College Hospital, Denmark Hill Campus, London, UK
(5)
Department of Medicine and Transplantation, Ospedali Riuniti, Bergamo, Italy
(6)
Department of Surgical and Gastroenterological Sciences, University of Padova, Padova, Italy
(7)
Center for Liver Research (CeLiveR), Ospedali Riuniti, Bergamo, Italy
(8)
Division of Pediatrics, Ospedali Riuniti, Bergamo, Italy
(9)
Department of Pediatrics, Federico II University, Naples, Italy
Copyright
© Invernizzi et al.; licensee BioMed Central Ltd. 2012
This article is published under license to BioMed Central Ltd. This is an Open Access article distributed under the terms of the Creative Commons Attribution License (http://creativecommons.org/licenses/by/2.0), which permits unrestricted use, distribution, and reproduction in any medium, provided the original work is properly cited.