Review
Open Access
Open Peer Review
This article has Open Peer Review reports available.
Upcoming pharmacological developments in chronic hepatitis B: can we glimpse a cure on the horizon?
BMC Gastroenterology
BMC series – open, inclusive and trusted
2017
17:168
Received: 21 May 2017
Accepted: 12 December 2017
Published: 21 December 2017
Abstract
Background
Hepatitis B virus (HBV) chronic infection affects up to 240 million people in the world and it is a common cause of cirrhosis and hepatocellular carcinoma (HCC). HBV covalently closed circular DNA (cccDNA) plays an essential role in HBV persistence and replication. Current pharmacological treatment with nucleos(t)ide analogues (NA) may suppress HBV replication with little or no impact on cccDNA, hence lifelong treatment is required in the vast majority of patients. Clearances of intrahepatic cccDNA and/or HBsAg are critical endpoints for future antiviral therapy in chronic HBV. Recent promising developments targeting different molecular HBV life cycle steps are being pre-clinically tested or have moved forward in early clinical trials.
Methods
We review the current state of the art of these pharmacological developments, mainly focusing on efficacy and safety results, which are expected to lay the ground for future HBV eradication. An inclusive literature search on new treatments of HBV using the following electronic databases: Pubmed/MEDLINE, AMED, CINAHL and the Cochrane Central Register of Controlled Trials. Full-text manuscripts and abstracts published over the last 12 years, from 2005 to March 2011 were reviewed for relevance and reference lists were crosschecked for additional applicable studies regarding new HBV antiviral treatment.
Results
HBV entry inhibitors, HBV core inhibitors, HBV cccDNA transcripts RNA interference, HBV cell apoptosis inducers, HBV RNA, viral proteins and DNA knock down agents, HBV release inhibitors, anti-sense nucleosides, exogenous interferon stimulation, interferon response stimulation and HBV therapeutic vaccines were reviewed.
Conclusion
This review will provide readers with an updated vision of current and foreseeable therapeutic developments in chronic hepatitis B.
Keywords
Hepatitis B virus clearanceLatest pharmacological developmentsHBV cccDNAHBV functional cureHBV eradication
Background
The percentage of the world's population chronically infected with the Hepatitis B virus is approximately 5%. This infection is the main cause of chronic liver disease and hepatocellular carcinoma (HCC) globally. From 1990 to 2005 there has been a global decrease in HBV chronic infection prevalence due to expanded vaccination [1]. However, this condition is still a leading cause of global mortality and its overall burden and relative rank of mortality and disability rose between 1990 and 2013 [2]. Although there is important geographic variation with 75% of the infected population living in China and the highest prevalence occurring in central sub-Saharan Africa [1], HBV represents an important global public health issue with a considerable burden to almost all health systems [3–5]. Whilst universal vaccination might provide a key step forward in the HBV global eradication horizon, current therapies only confer clinical control through antiviral activity with few patients achieving HBsAg loss [6], a functional cure not equivalent to viral eradication. In the era of direct antiviral agents (DAAs), more than 95% of hepatitis C virus (HCV) patients achieve viral eradication, which contrasts with the therapeutic outcome in HBV chronic infection. HBV therapeutic guidelines recommend treatment to prevent liver disease progression, decompensation of cirrhosis and HCC development [7, 8]. The current standard of care includes administration of nucleos(t)ide analogues (NAs) and peginterferon. Cure of HBV infection is uncommon, influenced by the tenacity of covalently closed circular DNA (cccDNA) in the hepatocytes nuclei. Interferon-based therapies are usually recommended for 48 weeks and may provide more benefit in HBeAg positive patients with low viremia, elevated ALT and HBV genotype-A [9, 10] however, the benefit in terms of HBV clearance is still low. NAs (Entecavir and Tenofovir), inhibit the HBV polymerase activity and thus viral replication, but with no major impact on cccDNA which is used to transcribe viral RNAs. Consequently, NAs do not prevent the expression of HBV genes from cccDNA or the production of sub-viral particles. Long-term NAs administration achieves HBV eradication in only 5–8% of cases [6, 11]. Hence, the vast majority of patients require lifelong treatment and rebounding of viral replication frequently follows drug cessation. Furthermore, HCC risk is reduced but not eliminated, even after long-term effective viral suppression [12]. On the long-term, sustained virological response (SVR) or functional cure occurs in less than 10% of patients [13, 14]. Hence, new therapies to eliminate HBV are needed. Research developments in HBV molecular virology have resulted in relevant advances in discerning potential therapeutic targets. This review outlines recent pre-clinical and early clinical drug developments aimed at HBV clearance including HBV entry inhibitors, 2nd generation Core inhibitors, TLR (toll-like receptor) agonists, anti-sense nucleotides and cccDNA targeting agents.
HBV Life cycle
The viral entry to hepatocytes starts with a reversible attachment to the low affinity host cell surface heparan-sulfate proteoglycans. This is continued with a more specific attachment of the receptor-binding region of pre-S1 to the extracellular loops of the hepatocyte specific receptor sodium taurocholate co-transporting polypeptide (NTCP), a multiple transmembrane transporter [15]. NTCP discovery has been a significant breakthrough in the field of HBV molecular biology as it has allowed the development of reliable HBV cell cultures to explore both the HBV and HDV life cycle as well as in vitro drug testing. The binding of the pre-S1 region to NTCP elicits endocytosis before the HBV nucleocapsid transfers to the cell nucleus [16]. However, key steps in replication such as viral particle and cell membrane fusion, uncoating, and transference of HBV relaxed circular DNA (rcDNA) to the nucleus, are still incompletely understood. Once in the nucleus, rcDNA is transformed into covalently closed circular DNA (cccDNA), which acts as the template for the transcription of all viral mRNAs and pregenomic RNA (pgRNA). The pgRNA is encapsidated with the P protein. Once in the nucleocapsid, the pgRNA is reverse transcribed into negative-strand DNA. From the negative-strand DNA, the rcDNA is produced by plus-strand synthesis and the nucleocapsids are then either re-imported to the nucleus for cccDNA amplification or else enveloped and released via the endoplasmic reticulum (ER). Inhibition of these stages is an important target of drugs under development [17]. Epigenetic modifications such as histone acetylations and methylations and the HBx protein regulate the transcriptional activity of cccDNA [18].
Furthermore, there are viral and host factors involved in the synthesis, stability and transcriptional regulation of cccDNA synthesis. One of them has recently been discovered as the tyrosyl-DNA phosphodiesterase 2 (TDP2) which is involved in the first step of cccDNA formation and offers a potential target for the development of drugs directed at HBV eradication [
19
]. In addition, an inactivation of cccDNA transcription by hyperchromatination, has been pointed to as another potential tool to achieve functional cure ("locking" cccDNA) (Fig.
1
).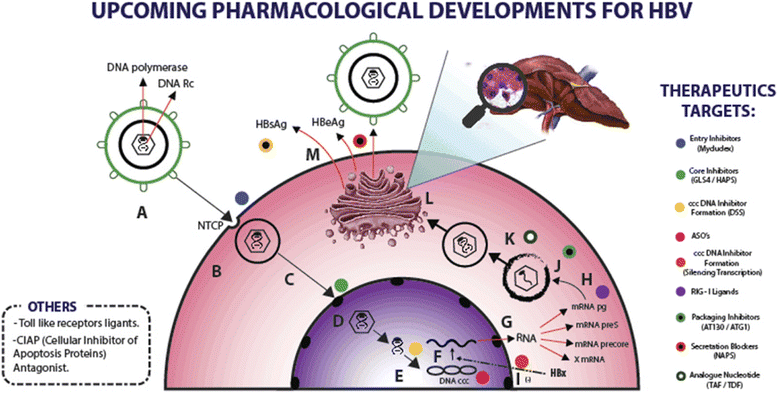 Current therapies
Current standard of care includes peginterferon alfa2a, and NAs (tenofovir and entecavir) as first line therapies to suppress HBV viral replication, which is followed by a biochemical response and improvement in liver histology [20, 21].
Peginterferon α has antiviral, anti-proliferative, and immunomodulatory effects. In hepatitis B e antigen (HBeAg)-positive patients, 1-year peginterferon monotherapy leads to HBeAg and HBsAg seroconversion in 29–32% and 3–5% at 6 months of follow-up, respectively [9]. ALT normalization and sustained viral suppression of HBV (DNA < 400 copies/ml) is achieved in about 15% of HBeAg negative patients [10].
Importantly, peginterferon-α treatment allows finite treatment duration with a 4% of HBsAg loss reported at 6 months off-therapy, which progressively increased to 11% after 4 years of follow-up [9, 10]. However, its long-term use is limited by the side effects.
Although both entecavir (ETV) and tenofovir (TDF) are potent nucleos(t)ide HBV polymerase inhibitors with a high genetic barrier to drug resistance, they do not affect the transcriptional activity of cccDNA and life-long treatment to achieve a significant reduction of the cccDNA pool would be required. They also have a modest effect on the HBsAg level as well as poor immunological control [22]. Nevertheless, either HBe Ag-positive or negative treatment-naïve patients achieve more than 90% rate of HBV undetectability after long-term treatment with ETV [14] and TDF [13]. On the other hand, HBeAg seroconversion occurred in 21% of patients after 1-year of ETV and TDF therapy [14, 23], and more importantly, HBsAg loss was achieved in 11.8% of HBeAg-positive patients after 7 years of TDF treatment. 5-year cumulative probability of genotype resistance in patients treated with ETV was 1,2% [24] and resistance to TDF has not been reported after 7 years of treatment [13].
This maintained viral suppression is associated with improvement in necro-inflammation and fibrosis scores in most patients [20] and to a reduction in HCC risk in patients receiving ETV compared to untreated historical controls in an Asian [25] but not in a Caucasian population [26]. Although resistance rates are so far extremely low in the case of ETV and not yet described with TDF, concerns about long-term resistance and safety remain as critical unmet needs.
Long-term, perhaps indefinite, NA therapy is normally administered to HBeAg-negative patients. Recent evidence from a Greek study suggests that long-term (≥ 4-year) ETV/TDF therapy may be safely discontinued in noncirrhotic HBeAg negative patients, particularly with mild to moderate fibrosis, although retreatment rates were 0%, 15%, 18%, 24%, 26% at 1, 2, 3, 6, 9 months after ETV/TDF cessation [27].
Combination therapy with IFNα and NAs, add-on or switch may have a synergistic effect by combining antiviral and immunomodulatory mechanisms. Although TDF and peginterferon-alfa2a combination resulted in an increased rate of HBsAg loss than either therapy alone, this rate (9.1%) still remains low [23]. Whilst add-on ETV to peginterferon treatment in HBeAg positive patients failed to show significant benefit [28], switch to peginterferon in HBeAg positive patients on ETV achieved higher HBeAg seroconversion and 8.5% of HBsAg loss. Predictors of response included an early-on decline of HBsAg or baseline levels of < 1500 IU/ml [29]. Recently a multicentre randomised trial comparing add-on or switch to peginterferon alpha 2b for 48 weeks in HBeAg patients on NA therapy, compared to continuing NA, showed that HBeAg loss or decrease in HBsAg levels >1 log at week 72 was significantly higher in the add-on but not the switch arm, compared to the controls. This suggests that compared to the other two options, add-on therapy is a superior strategy [30]. A recent randomized controlled open trial evaluated the efficacy and safety of addition of a 48 week course of peginterferon in HBeAg-negative chronic hepatitis B patients on NA therapy with undetectable HBV DNA for a least 1 year. Addition of Peginterferon to NAs therapy in 92 patients was poorly tolerated with no differences in HBsAg clearance, when compared to 93 patients who continued NA therapy alone (difference 4,6% [95% CI -2·6 to 12·5]; p = 0·15) [31]. To date, combination treatment strategies are not recommended and require further assessment of efficacy and safety. Therefore, new therapies to eliminate intrahepatic cccDNA are prompted for patients with an increased risk of developing cirrhosis and HCC.
New NAs
Tenofovir alafenamide (TAF) is a second-generation pro-drug of tenofovir and is mainly metabolized intracellularly to tenofovir diphosphate showing lower levels of tenofovir in plasma than TDF [32]. Recently two phase III studies, showed non-inferior efficacy of 25 mg of TAF to TDF on virological suppression at week 48 in HBeAg positive and negative patients. Patients who received TAF had less changes in bone and renal parameters due to the absence of renal organic anion transporters, OAT1 and OAT3-dependent cytotoxicity [33, 34].
Besifovir (LB80380) is a novel guanosine analogue with potent anti-HBV activity and works even against viruses resistant to approved NAs [35]. In a multicenter randomised trial, besifovir showed similar rates of virological response and HBeAg seroconversion compared to entecavir [36]. Although both TAF and besifovir might represent important advances, they do not clear intrahepatic cccDNA, and thus do not achieve a cure for HBV infection alone.
Novel developments and potential therapeutic approaches
Extensive research on HBV life cycle and virus-host interactions has shed light on potential viral and host targets that are accountable for persistent HBV infection (Table
1
).
Table 1
Novel agents against HBV and phase of development
Mode of action

Target

Drug

Clinical phase

Direct acting antivirals

 Polymerase inhibition

HBV polymerase

Tenofovir alafenamide

Phase 3

Besifovir

Phase 3

 Entry inhibition

NTCP

Myrcludex-B

Phase 2a

 Core inhibitors

Nucleocapsid assembly

NVR 3–778

Phase 2

AT-61, AT130, Bay 41–4109

Preclinical

 Cleavage of DNA

ccc-DNA

ZFNs,TALENs,CRISPR/Cas

Preclinical

 Inhibition of ccc-DNA formation

CCC-0975 and CCC-0346

Preclinical

 Non-cytolitic cccDNA degradation by inducing APOBEC3A and APOBEC3B

Lymphotoxin-b receptor agonist

Preclinical

 Apoptosis induction by inhibiting cIAPs

CIAPs

Birinapant

Phase 1

 Knock down HBV RNA, viral proteins and HBV DNA

HBV RNA

ARC-520, ARC-521

Phase 2

 Block release of HBsAg

REP-2139

Phase 2

 Antisense nucleotides

Target RNA

ASOs

Preclinical

Host targeting agents

 Exogenous interferon stimulation

Innate immunity TLR7

Toll-like receptor (TLR) agonist (GS-9620)

Phase 2

 Stimulate IFN response

Innate immunity RIG-I

SB 9200

Phase 2

 Therapeutic vaccination

Adaptive immunity

GS-4774 (Tarmogen)

Phase 2b

ABX203

Phase 2b
Conclusions
Recent developments of new highly effective antiviral therapy against HCV infection have fueled the research for a cure of chronic HBV infection or HBsAg loss. Intranuclear cccDNA and HBV-DNA integration remain as critical barriers for HBV cure. Albeit, new preclinical and early-clinical development show promising proof of concept results, although most of the trials, even the more advanced, ones did not set HBsAg loss as a principal endpoint. Furthermore, which biomarkers are necessary to accurately assess sterilizing cure remains unclear. Thus, we are currently quite far from foreseeing which drugs or which combinations will eventually succeed in eliminating cccDNA. It is likely that combining agents directed at different specific steps in the viral life-cycle, including cccDNA targets, with those aimed at activating and restoring host anti-viral immunity will be needed to overcome HBV chronic infection. These therapeutic strategies are expected to be tested and enter clinical assessment in the next few years (Fig.
2
). Additional concerns about safety of host targeting drugs remain to be elucidated. In this sense, a non-cytolytic purging of cccDNA containing hepatocytes stands out as the preferred approach.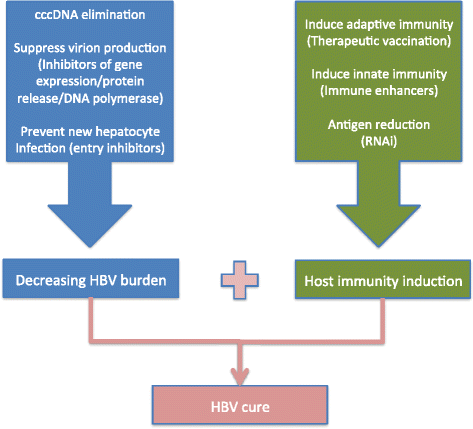 Although we still seem to be a long way from definitely curing HBV infection, combining efforts of basic, translational, clinical research and awareness of regulatory agencies of the need for early combination trials, will hopefully pave the way to the cure of HBV infection in the next two decades.
Abbreviations
ALT:

Alanine Aminotransferase
cccDNA:

Covalently circular closed DNA
cccDNA:

HBV covalently closed circular DNA
DAAs:

Direct Antiviral Agents
DMXAA:

5,6-dimethylxanthenone-4-acetic acid
ER:

Endoplasmic reticulum
ETV:

Entecavir
HBeAg:

Hepatitis B e Antigen
HBsAg:

Hepatitis B surface Antigen
HBV:

Hepatitis B virus
HCC:

Hepatocellular carcinoma
HCV:

Hepatitis C virus
NAs:

Nucleos(t)ide analogues (NAs)
NTCP:

Sodium taurocholate co-transporting polypeptide
OAT:

Organic anion transporters
pgRNA:

Pregenomic RNA
rcDNA:

Relaxed circular DNA
SMAC:

second mitochondrial-derived activator of caspases
STING:

stimulator of interferon genes
SVR:

Sustained virological response
TAF:

Tenofovir alafenamide
TDF:

Tenofovir fumarate
TDP2:

Tyrosyl-DNA phosphodiesterase 2
TLR:

Toll-like receptor
UNA:

Unlocked nucleomonomer agent
Declarations
Acknowledgements
Authors acknowledge Christian Correa for graphic design and Elena Stalling for editorial assistance.
Availability of data and materials
Not applicable.
Authors' contributions
All authors equally contributed to bibliographic search, redaction, review and graphic design contained in the manuscript. All authors read and approved the final manuscript.
Ethics approval and consent to participate
Not applicable.
Consent for publication
Not applicable.
Competing interests
The authors declare that they have no competing interests.
Publisher's Note
Springer Nature remains neutral with regard to jurisdictional claims in published maps and institutional affiliations.
Open AccessThis article is distributed under the terms of the Creative Commons Attribution 4.0 International License (http://creativecommons.org/licenses/by/4.0/), which permits unrestricted use, distribution, and reproduction in any medium, provided you give appropriate credit to the original author(s) and the source, provide a link to the Creative Commons license, and indicate if changes were made. The Creative Commons Public Domain Dedication waiver (http://creativecommons.org/publicdomain/zero/1.0/) applies to the data made available in this article, unless otherwise stated.
Authors' Affiliations
(1)
Unit of Gastroenterology, Hospital Universitario Fundación Alcorcón, Alcorcon, Spain